SawStop offers three full-size table saws as well as two portable options, all with the legendary safety system you require in your classroom.
The Contractor Saw offers versatile quality. There are multiple mobility choices for various classroom environments and a wide array of fence-rail-table configurations.
The Professional Saw offers superior performance. It has solid cast iron construction and peerless fit and finish. Engineered for DIYers and professionals, it'll fit great into your classroom.
The Industrial Saw offers impressive strength. It has precision, heavy-duty construction making it the heaviest of the three saws and the most powerful. It was engineered for heavy duty-cycle environments, making it perfect for any woodworking classroom.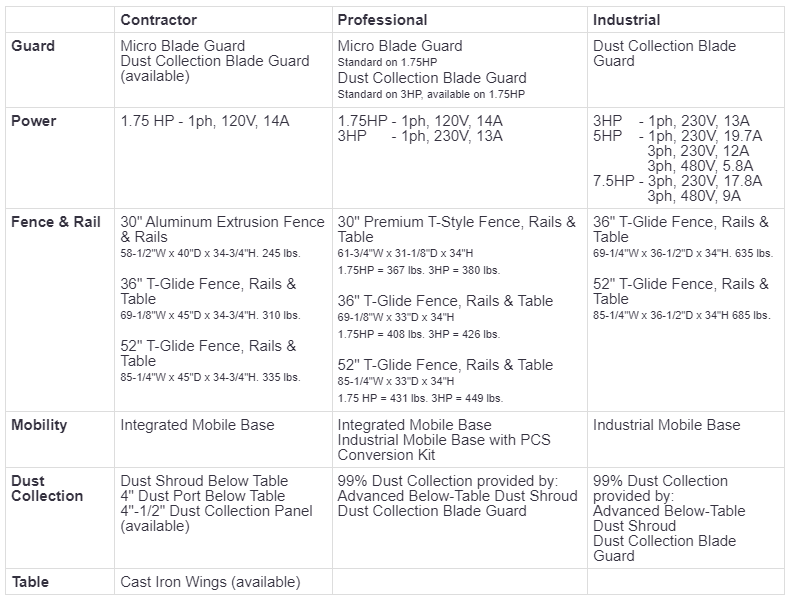 Trying to Decide Between the Industrial Saw and Professional Saw?
Depending on your classroom needs, either saw could be the perfect option for you. Here's a breakdown of the differences between the two.
Design - The Industrial Saw offers bigger hand wheels, a larger metal motor access door, and a second access door.
Safety & Quality - The Industrial Saw has a lock-out/tag-out switch and interrupt switch on access doors, plus 5HP and 7.5HP motor options with a 5-year warranty.
Heavy Duty - The Industrial Saw has 200+ more pounds of iron and steel, thicker and deeper cast iron table, thicker gauge steel, larger and deeper T-Glide fence, and a large cast iron trunnion.
Don't Forget the Portable Options
Jobsite Saw Pro - Lightweight and portable unit with the same SawStop safety, quality, and peace of mind wherever you need it. Has a 1.5HP motor, 120VAC, 60Hz, and weighs 113 lbs with the cart. Measures 26-1/2"W x 29"D x 44"H.
Compact Saw - The smallest, most portable SawStop yet. Bring power, precision, cut capacity, and safety to every shop classroom. Has a 1.5 HP motor, 120 VAC, 60 Hz, and weighs 68 lbs. Measures 23-1/2"W × 27"D x 14-1/4"H.
SawStop Accessories
Router Tables - Optimize your SawStop saw with these cast iron tables with internal channels and a multi-adjustment fence with dust extraction that seamlessly integrates into your saw.
Dust Collection - Remove dust up and out of the way and maximize the potential of your dust collection blade guard.
Sliding Tables - Engineered to deliver easy, repeatable, accurate results. A larger option is available that's designed for cutting sheet goods and larger stock.
Folding Outfeed Table - Sized to match the width of your cast iron table and wings. Adjusts easily and stows quickly. Has a powder-coated steel frame with a support plate.
Why Do You Need a SawStop?
SawStop is known for its superior safety system that keeps students much safer than traditional table saws and precautions.
Monitor & Detect - The blade carries a small electrical signal and when skin contacts the blade, the signal changes since the human body is conductive. This change to the signal activates the safety system.
Brake Activation - An aluminum brake springs into the spinning blade, stopping it in less than 5 milliseconds. The blade's angular momentum drives it beneath the table, removing the risk of further contact. Power to the motor is also shut off.
Reset - It's easy to reset the saw yourself. Replace the blade and brake cartridge and you're ready to go again. The entire process takes less than 90 seconds.
Shop for SawStop with Midwest Technology!
At Midwest Technology Products, we stock the full line of SawStop saws and accessories. Check it out and let us know if you have any questions. We'll be happy to help you find the right set up for your classroom!