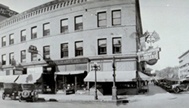 Midwest Celebrates Century Mark!
100 Years of Loyal Customer Service
A family-owned business that has endured and prospered over the course of four generations and 100 years—now that's a rarity these days.
What makes a company carry on through changing economies, new challenges, and advancing technologies when most business owners sell out, close down, and move on?
Loyalty.
Founded in 1909 by Barrett S. Peete, this company began as a small store offering hardware supplies to contractors and homeowners. The store carried just about every hardware item, including roller skate keys.
The upper walls of the store were lined with drawers. A tall rolling ladder allowed clerks to access the drawers. Barrett's great granddaughter, Robin, who joined the Board of Directors in 1989, recounts stories of how her mother loved to climb the ladder and investigate what was in all of those drawers. "She still remembers where the roller skate keys were kept!"
In 1955, Barrett's son Richard L. Peete took the helm. A forward-thinking businessman, Richard recognized the growing needs of schools offering shop classes. He decided to focus on that market, and in 1963, he changed the company name to Midwest Shop Supplies to reflect the intention to offer durable supplies for schools.
Through the years Midwest gained a well-deserved reputation for its dedication to its customers, as the company helped provide hard-to-find products. Need a few batik and weaving supplies? A metal enameling kiln? Or lapidary and gem cutting tools? No problem! A quick trip to downtown Sioux City and it was a pretty sure bet you could find what you needed at Midwest Shop Supplies.
In 1967 when educators expressed a need for mobile classrooms, Midwest went to work to develop a Learning Laboratory. Customized for comfort and providing a "motion picture" projector, tape recorder, chalkboard, and other necessities, the Learning Laboratory was used throughout four counties in Iowa.
Going to extraordinary lengths to provide the tools and environments necessary for educators to teach the most up-to-date skills, Midwest responded year after year to the call for innovation. With technology advancing rapidly, educators across the country raced to create lesson plans to teach technology basics.
From 1987 and thereafter, the third generation transitioned into the ownership role of the thriving company. Richard Peete's daughters, Linda and Susan, expanded the product lines to meet rising customer demand. This growth necessitated changing the name to Midwest Technology Products. At that point, Midwest actively solicited bids from school districts nationwide.
For the first time, Midwest hired sales representatives and independent contractors to provide personalized service for teachers. This also enabled Midwest to oversee the installation of furniture and equipment onsite—both critical components of superior customer service.
As the needs of educators change, Midwest strives to offer services and products that are a cut above. It's not a bottom-line mentality. It's a dedication to customers that has been nurtured now through four generations of a family, when Barrett's great granddaughter Robin assumed day-to-day responsibilities in 2004.
For 100 years the people at Midwest have been rising to the challenge and responding to the needs of educators and students.
That's loyalty lived out. At Midwest, it's business as usual.